Women in Science and 'Bombshell' Hedy Lamarr Doc Open the 2017 Sloan Film Summit
"People need to know what she did," said actor/producer Diane Kruger during the pre-screening panel of Alexandra Dean's documentary Bombshell: the Hedy Lamarr Story, which kicked off the 2017 Sloan Film Summit in Los Angeles on Friday. Moderated by Jen Yamato of the Los Angeles Times, the Women in Science and Film panel also featured Danijela Cabric, Associate Professor of Electrical and Computer Engineering at UCLA, and Tracy Drain, a Flight Systems Engineer at Jet Propulsions Lab in Pasadena.
A major star during Hollywood's 1930s-1940s Golden Age, Hedy Lamarr is best known as an iconic silver-screen beauty. But the world's refusal to acknowledge the actress's deeper talents as a scientific innovator was a source of constant agitation. Though cherished and admired for her roles in Samson and Delilah (1949), Come Live with Me (1941) and Boom Town (1940), the applause Lamarr received as a performer eventually left her feeling flat. As the opening quote in Bombshell reads: "Any girl can be glamorous. All you have to do is stand still and look stupid."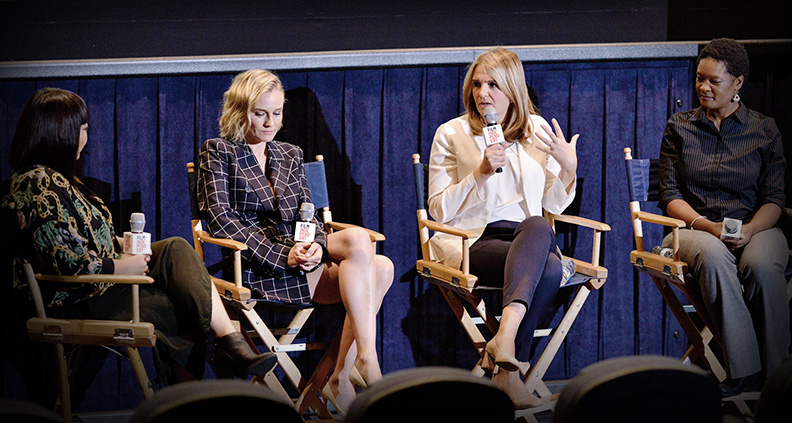 Kruger (The Infiltrator, Inglourious Basterds) confessed herself ignorant of Lamarr's penchant for scientific invention until coming across a mediocre script that enlightened her, inspiring further research and Kruger's own resolve to make a TV miniseries in Lamarr's honor—now in development.
On the other hand, Cabric became very familiar with Lamarr's contributions to her field of engineering; when Cabric began her Master's thesis at UCLA in wireless communication, she built her own innovations in frequency hopping using Lamarr's own patented system for secret communications. As the only woman working in a lab full of male grad students, Cabric was "so proud to demonstrate the fastest frequency hopping to date, based on the invention of Hedy Lamarr—who also happened to be a woman."
Driven by the need during World War II for secret communication over radio frequencies, Lamarr's invention is now recognized as a foundational principle in wireless spectrum technology—the science that allows us to transmit communication signals through the air. What started as a secure system to direct British torpedoes has led to Bluetooth, cellular phones, GPS and WiFi.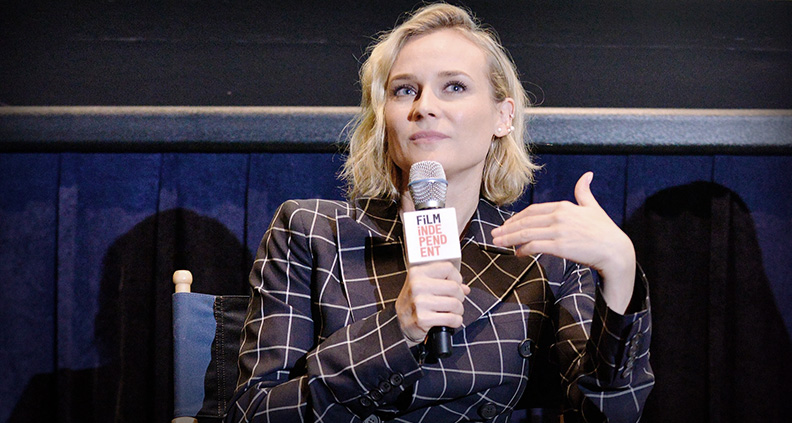 Rather than being celebrated as a beautiful actress who also occasionally invented revolutionary communications technology, Lamarr was frustrated with the one-dimensional perception of herself that the public insisted on maintaining.
In addition to her scientific interests, Lamarr was also an independent filmmaker, producing and starring in The Strange Woman (1946) and Loves of Three Queens (1954). She established a thriving ski resort in Aspen. What might it have meant to her to have engineering, chemistry and invention represented more broadly in films?
Recalling her childhood love of Star Trek: The Next Generation, Drain didn't fully realize the impact her favorite show was having on her until much later. "My mom told me the most adorable story; she and her three sisters used to watch the original Star Trek because Uhura was on TV!" Seeing a black woman who was not a maid, cook or a nanny widened the perception of Drain's family, suggesting a broader range of professional opportunities.
That early influence benefited Drain as well, who was encouraged to reach for the career path she wanted. "The cool thing about Star Trek is it's inspired so many of us to become engineers!"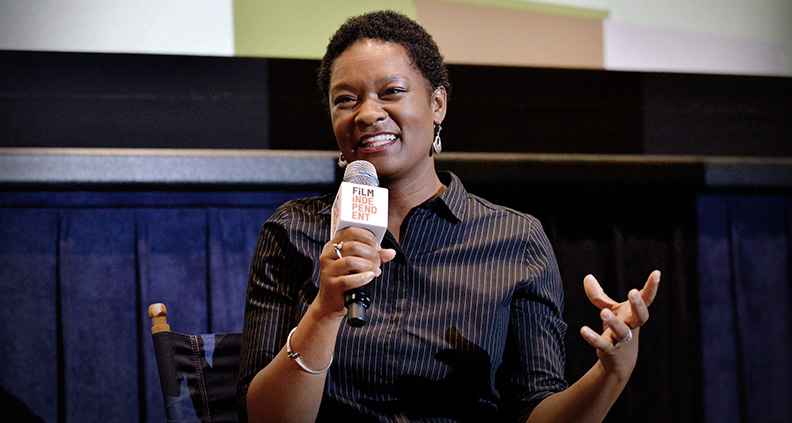 Cabric likewise recognized the importance of having early influences. "As a child I was encouraged to think." She recalled conversing with her physics-professor father, which spurred her technical aspirations. Add to that her upbringing in Serbia, where the sciences employed an equal ratio of men and women.
Thriving in math at school, Cabric and her friends participated in competitions. Now she sees only 10-15% female freshmen in her program at UCLA and wants to support them, hoping the ratio eventually becomes more equitable. "Hopefully young girls will not wait until college to choose engineering."
A female student told Cabric she became interested in science after watching a cartoon in which a girl manufactured an artificial hand. The student thought, "Maybe one day I'll do that." Recognizing that filmmakers sometimes have to sacrifice scrupulous scientific accuracy in the interest of visually interesting storytelling, Drain acknowledged that film can still inspire new scientific possibilities.
What excites Cabric about the Hedy Lamarr story is the breaking of stereotype that scientists are boring nerds locked in a lab all the time. "You can be a beautiful woman actress, and have cool ideas, and make inventions. You don't have to become a person who's not the self you already are—I think that's true of any kind of job."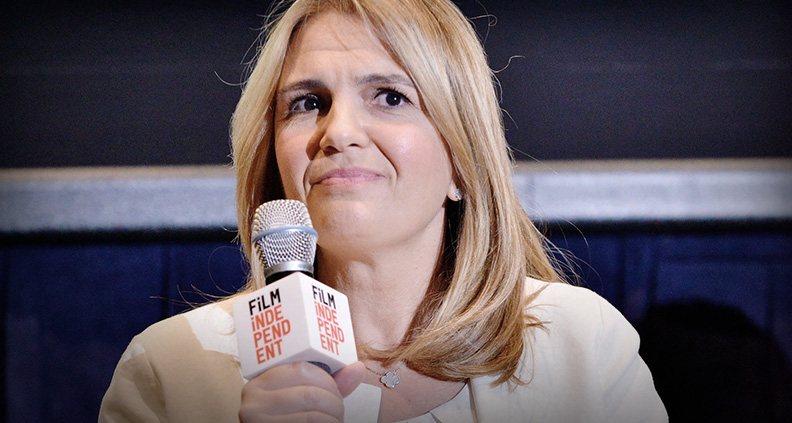 Kruger is also seeing a trend toward women exploring their full potential in the film world. "I'm European, so I feel like in Europe we have more female directors than in the US, but there's definitely been an attention to hiring more female directors and getting girls to become directors."
Cabric further pointed out that the writing and direction of Alexandra Dean is critical to the success of Bombshell. "Alexandra did a fantastic job, the angle she took as a woman made a difference. In this case, I think having a woman tell her story made a difference."
Watch the full panel below or on Film Independent's YouTube channel:
The 2017 Sloan Film Summit is taking place October 27-29 at the Japanese American National Museum in Downtown Los Angeles. For more information about the Alfred P. Sloan Foundation, visit sloan.org. To see a full schedule of events, including speaker and panelist info for the 2017 Sloan Film Summit, click here.
Stay tuned to this blog for full recaps of this year's conference, and subscribe to Film Independent's YouTube channel to catch full panels, highlights and special events.